This Korean Life #103: Travelin', Adversity, & Adventure | Dennis Feeheley
Quality Peninsula Banter
22 days ago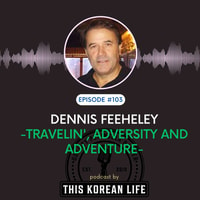 Episode Notes
Dennis Feeheley: CEO, Explorer, and Storyteller 🏆🌍🎙️ | #thiskoreanlife #LifeAdventures
Link to Youtube: https://youtu.be/aCDX7lnabwY
🎙️ Welcome to "This Korean Life"! 🇰🇷✨ Prepare to be absolutely captivated as we embark on a thrilling journey into the extraordinary life and adventures of Dennis Feeheley. 🌍✈️
Imagine traveling to not just one or two, but an astounding 55 countries, each with its own unique story to tell. Dennis takes us on a globe-trotting adventure, sharing mesmerizing tales from his travels when he was just 19 years old. He hitchhiked across the Sahara Desert, an adventure that tested his limits and expanded his horizons. This daring escapade is just one of the many chapters that define his adventurous spirit.
🏉 And that's not all! Picture studying and playing rugby at the prestigious Oxford University, a hub of academic excellence and athletic prowess. Dennis delves into the rich tapestry of his Oxford experience, where tradition meets innovation.
🌐 Dennis was also the CEO of an international trade company, navigating the complex landscape of global commerce with finesse.
🏛️ But his journey doesn't stop there. He has also worked as a Legislative correspondent for the US Congress, providing insights into the inner workings of American politics.
🔒 Beyond borders and expectations, Dennis has lectured at a maximum-security prison in the US, offering hope and knowledge to those seeking redemption.
🌟 And if that's not remarkable enough, he's one of the select few Americans to have traveled behind the 'Iron Curtain,' offering us a unique perspective on history and geopolitics. Join us in this riveting conversation as we unravel the many chapters of Dennis Feeheley's incredible life, filled with adventure, resilience, and a relentless pursuit of knowledge and understanding.
🌍🏉🏜️🏛️🌐🔒🌟 #ThisKoreanLife #DennisFeeheley #AdventureTales #OxfordLife #SaharaAdventure #GlobalCommerce #USCongressInsights #PrisonLectures #IronCurtainJourney #LifeAdventures #ExtraordinaryLife
Check out our podcast host, Pinecast. Start your own podcast for free with no credit card required. If you decide to upgrade, use coupon code r-1777cf for 40% off for 4 months, and support This Korean Life.