This Korean Life #101 Fatherhood, Sports, Life, and Memories of Korea featuring A.J. McNally
Quality Peninsula Banter
1 month ago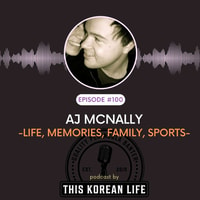 Episode Notes
🎙️ Welcome to "This Korean Life"! ✨ Get ready to dive into the world of A.J. McNally, a remarkable individual who wears multiple hats with finesse. Join us as we explore the rich tapestry of fatherhood, sports, pandemic challenges, work, life, and intriguing Korean anecdotes.
👨‍👧‍👦 A.J., a loving father, resides with his family in the beautiful city of Saint Albert, Alberta, Canada. Through his captivating stories, he paints a vivid picture of the joys and struggles of fatherhood, sharing heartwarming moments and invaluable lessons learned along the way.
⚽🏀🏒 Sports enthusiasts, brace yourselves! A.J. delves into the exhilarating world of sports, sharing his experiences, insights, and the role they play in shaping his life and perspective.
🌍 Amidst the hardships brought by the pandemic, A.J. shines a light on how things were handled in Canada and some positive changes that resulted.
📖Lastly, Prepare to be entertained as A.J. digs deep into the vault and shares some Korean anecdotes from pre-2010. 👨‍👧‍👦⚽🏀🏒#ThisKoreanLife #AJMcNally #FatherhoodJourney #SportsEnthusiast #PandemicChallenges
WorkLifeBalance #CanadianLife #KoreanAnecdotes #Resilience #InspirationalStories #FamilyLove #SportsPassion #PandemicStruggles #CareerInsights #PersonalGrowth #OldKoreanTales #FatherhoodLessons #LifeLessons #HockeyPassion #EntrepreneurialSpirit #KoreanHeritage #AlbertaLiving #SportsAndLife #FatherhoodGoals #HockeyLife #InspiringTalks #ParentingWisdom #LifeChallenges #KoreanCulture #WorkLifeHarmony
Check out our podcast host, Pinecast. Start your own podcast for free with no credit card required. If you decide to upgrade, use coupon code r-1777cf for 40% off for 4 months, and support This Korean Life.