This Korean Life #100 feat: EunJu Park McNally; K-art, Loved Ones, Struggle, and New Beginnings
Quality Peninsula Banter
2 months ago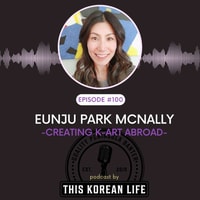 Episode Notes
🎙️ Welcome to another episode of "This Korean Life"!
✨ In this special edition, #100 we had the privilege of featuring the incredible Eunju Park McNally, a Korean artist whose captivating artwork speaks volumes about life, resilience, and the power of overcoming adversity.
🎨 Join us as we explore the world of K-Art, life's challenges, and the transformative journey of Eunju. Although she now resides in Canada with her loving husband and children, her Korean heritage and artistic roots continue to shape her unique perspective. Through her breathtaking artwork, Eunju shares positive messages in hopes of affecting change in others. She takes us on an intimate journey, revealing the inspirations behind her mesmerizing creations and sharing the stories of triumph that lie behind each piece of hanji paper she uses.
💪❤️ As we delve into the depths of Eunju's artistic process, we'll uncover the incredible power of art as a tool for healing, self-discovery, and personal growth. Her story is a testament to the resilience of the human spirit and the ability of art to transcend boundaries.
🎨✨💪❤️ #ThisKoreanLife #KArt #OvercomingAdversity #LifeLessons #KoreanArt #Inspiration #ArtisticExpression
HealingThroughArt #Resilience #humanexperience #ThisKoreanLife #KArtLife #KoreanArtist #ArtisticJourney #OvercomingAdversity #LifeLessons #ArtisticExpression #CreativeInspiration #HealingThroughArt #Resilience #KoreanHeritage #CanadianArtist #ArtisticPerspective #KoreanArtCommunity #ArtisticSoul #EmpoweringStories #ArtisticTransformation #ArtisticInspiration #ArtisticExploration #ArtisticPassion #ArtisticProcess #ArtisticHealing #ArtisticGrowth #ArtisticExpression #ArtisticExperience #ArtisticDiscovery #KArtTherapy #ArtisticMindset #KArtisticExpression #LifeChallenges #ArtisticTriumph
Check out our podcast host, Pinecast. Start your own podcast for free with no credit card required. If you decide to upgrade, use coupon code r-1777cf for 40% off for 4 months, and support This Korean Life.